Recently, I published a post about some amazing things I learned from Jerry Iannucci's guest appearance at the Affiliate Funnel Conference. For those of you that don't know, Jerry is the man when it comes to Safelist Marketing, and wrote a widely popular book called "Safelist Marketing Tactics." If you still haven't read the book, you can download it directly by clicking this link. Something you won't find in the book, but that Jerry recommended highly at the conference, is a newer safelist, State-of-the-Art-Mailer. I have fallen head-over-heels in love with this safelist over the past couple of weeks! I want to share what I find are the coolest features SOTAM has to offer, and just how innovative Brad Webb and Jaye Pause (the creators) are. Other safelists will clearly have to bring way more to the table, or learn to be comfortable in SOTAM's shadow.
What's so special about SOTAM?
Profit Sharing
LIVE Click Rate Stats
Button Escalation System
Video Tutorials
So there's the super short version of what's unique about SOTAM. Let me explain just how groundbreaking these features are.
Profit Sharing:
How many website owners do you know that are willing to share their profits with members? Not many! I'm not talking about commissions here folks, I'm talking about sharing the website's profit with all active members! Do you find it hard to get referrals? How about getting those referrals to upgrade or buy ads? It can be as difficult as pulling teeth… from someone that has their mouth wired shut. With SOTAM, you do NOT have to referrals or be upgraded to earn a little money. You just have to be active in the safelist… that's it! If you read 75% of the email ads you receive in that period (a month), you earn a share of the profits for that period. You won't make a million dollars from profit sharing, but you can surely earn enough to cover an upgrade, if you choose to do so (which is a bigtime "worth it"). It's super easy to check your activity level right from your member's area, and the stats are always live. Here are my live stats from this morning (see screenshot below). SOTAM emails expire 6 days after being sent, so this Profit Sharing System keeps the members extremely active… brilliant!
Live Click Rate Stats:
You want to talk about transparency in a business? It doesn't get any more see through than displaying your website's real time, live advertising statistics. How many safelists do you know that are so comfortable and proud with their performance to display live, real time stats of how many of the emails are actually opened? Again… not many! The stats are even broken down to each Button Level so you can see exactly how each level is performing, and ultimately which is the best Button Level to advertise to. These stats are real time, they aren't some fluffed up stats from 5 months ago. They show exactly how the safelist is performing today, right now, this moment! You can even see just how much activity has increased since SOTAM opened… killer stats to say the least. AND you can even click the handy dandy help question mark to see how to improve your Click Rates if they are falling below the average… love it!
Button Escalation System:
At first, this system is a tiny bit confusing. It was to me, but luckily Brad and Jaye created a video tutorial that explains exactly what it is and how it works. Because they explain it so well, I won't go into some long detailed explanation here. As you click, you earn credits that build up and move you into a new Button Level. As you move up, you're able to advertise to more members, and at a better performing level. I don't like to click tons of mails, so I upgraded to a higher button level (which Profit Sharing can help me maintain). Now I can earn even more credits when I read mails, and it pushes me into an even higher level, thus improving my advertising efforts. This is another feature that keeps SOTAM so insanely active and effective. Huge thumbs up to Jaye and Brad for this unique feature!
Video Tutorials:
Safelists can be a little overwhelming at first, and with the amazing features built into SOTAM, it can be hard to grasp how to take advantage of them right away. SOTAM has short video tutorials for just about everything in the site. They're not complicated either. I watch them once, I know what I'm doing… so simple. And it's not a hard thing to do, make videos, but this goes to show you just how important it is to Jaye and Brad for you to succeed with SOTAM. Another huge thumbs up from me!
These are just a few of the features I really love at SOTAM. This post has quickly become a book, so I'll let you discover all the other aspects that really just make this the safelist way above the norm. If you're smarter than me, you'll take notice of the upgrade offer when joining. It's easy to make your upgrade payment back from the Profit Sharing, so take that into consideration… and if you can, take advantage of that offer. I promise you (from personal experience) you really won't see it again lol. Feel free to join SOTAM below and quickly step up your safelist game.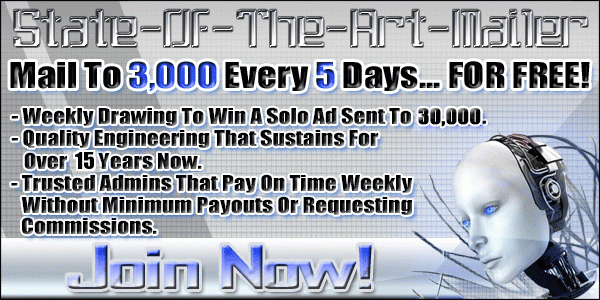 Popularity: 16%